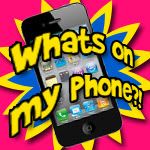 So it's Tuesday!! Now. This will be the LAST What's on My Phone with crappy quality pictures! The hubs and I got brand new shiny phones. This doesn't mean you're going to get good pictures. I apparently lack the "cell phone technology" gene. So just be prepared. haha. Let's get started!!
First up is all of our many suitcases!! Moving is pretty crazy and we have tons of stuff we want to take on the plane with us rather than go with our HHG.
When Gracie is being friendly he likes to hang out under the tree. Notice what I am calling the before:
But sometimes that can be a bit cold so then he takes matters into his own hands. Notice the after:
What do the hubs and I do on dates?? We borrow babies and go to the mall!!!
And this baby is something special. He's our sweet Baby Liam. He and Husband are buddies.
So this sweetheart's mommy just left for vacation. (She took him with her) and so we made a going away dinner. I made hor dourves. I put them in my new hor dourves spoons. I love them.
And now I leave you with this crappy picture of a new favorite book. A favorite passage in this favorite book.
It says, "He cupped her face with his hands, forcing her to look at him. 'Listen to me, Evie. I loved you then and I love you still. I may not have always loved you in the way you wanted to be loved, but as God is my witness I loved you the best way I knew how. If I never told you it was forever, then I beg your forgiceness, but I never saw it any other way.'"
Sweet.